Situation:  I have a 32bit file server running Windows Server 2003.  I have a new 2008 R2 (x64) file server running on Hyper-V.  Did I mention that the R2 server is on Clustered hosts?
This is all simple.  Just drop the LUNs from the file server, give them to the cluster and assign them as pass through disk to the guest OS.  Simple…
Except, I kept getting the following errors when I try to do the import:
An online pack already exists.

The operation failed, because an online pack object already exists.

The provider encountered an error while merging two packs.
I mean really…  what does all that mean.  I couldn't find anything pertinent in my searches, I tried working in Diskpart, and got some of the same errors.
After lots of searches, I couldn't find anything to help.  So I opened a ticket with Microsoft.  I got a very helpful person who told me that it basically sounds like a driver issue, but he couldn't say for certain.  He couldn't find much on it either.
So on a whim, I moved my test LUN from my production file server to another 2003 server.  That worked just fine, so I then moved it from there to the 2008 R2 machine that I had been working with.  That worked just fine.  Weird…
So I checked the driver for the production file server: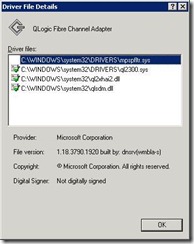 and compared that to the other 2003 server: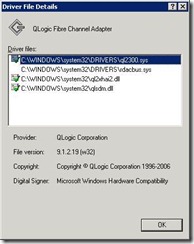 As you can tell, the culprit seems to be an outdated driver on the current file server.  Seems I don't keep things as up to date as I should.